During this difficult time, the incredible work of our local heroes has lifted our spirits. It has been heart-warming to see our communities pull together during the COVID-19 lockdown. So many individuals have gone above and beyond to help others in need. Throughout this challenging time, we are continuing to support our chosen charities, including Social Bite. But we also want to do something extra to recognise these impressive individuals. Here is how we would like to celebrate our local heroes and spread positivity:
We have been touched by the recent messages we have received from our lovely customers, many of whom are finding comfort in their personalised photo lockets. As a team, we would like to use our skills to show our support for those who are doing so much to keep everyone safe and fed during the coronavirus pandemic.
Each week, we will be giving away one of the Lily Blanche Birds, Bees, Feathers, Keys or Seahorse lockets to an individual who has demonstrated exceptional community spirit. We will be asking our customers to nominate someone in their community who is going above and beyond to help others. The Lily Blanche team will choose an individual from the nominations and will make them a personalised locket, allowing them to keep their own loved ones close while they are working to serve others.
Our latest local hero: Sara MacMillan
Thank you so much to everyone who nominated their local heroes this week. We have been so touched by the lovely stories of those working so hard behind the scenes in their communities. This week, we are so excited to announce our latest local hero, Sara MacMillan.
Sara is the founder of The Kitchen at 44 King Street, a new Community Interest Company in Stirling, Scotland. During lockdown, Sara established The Community Fridge project which is distributing surplus food from local shops and supermarkets to those affected by the COVID-19 crisis. Sara is dedicating her space to facilitating the distribution and donation of food to those who need it within the community. Here is a lovely photo of this week's local hero, Sara: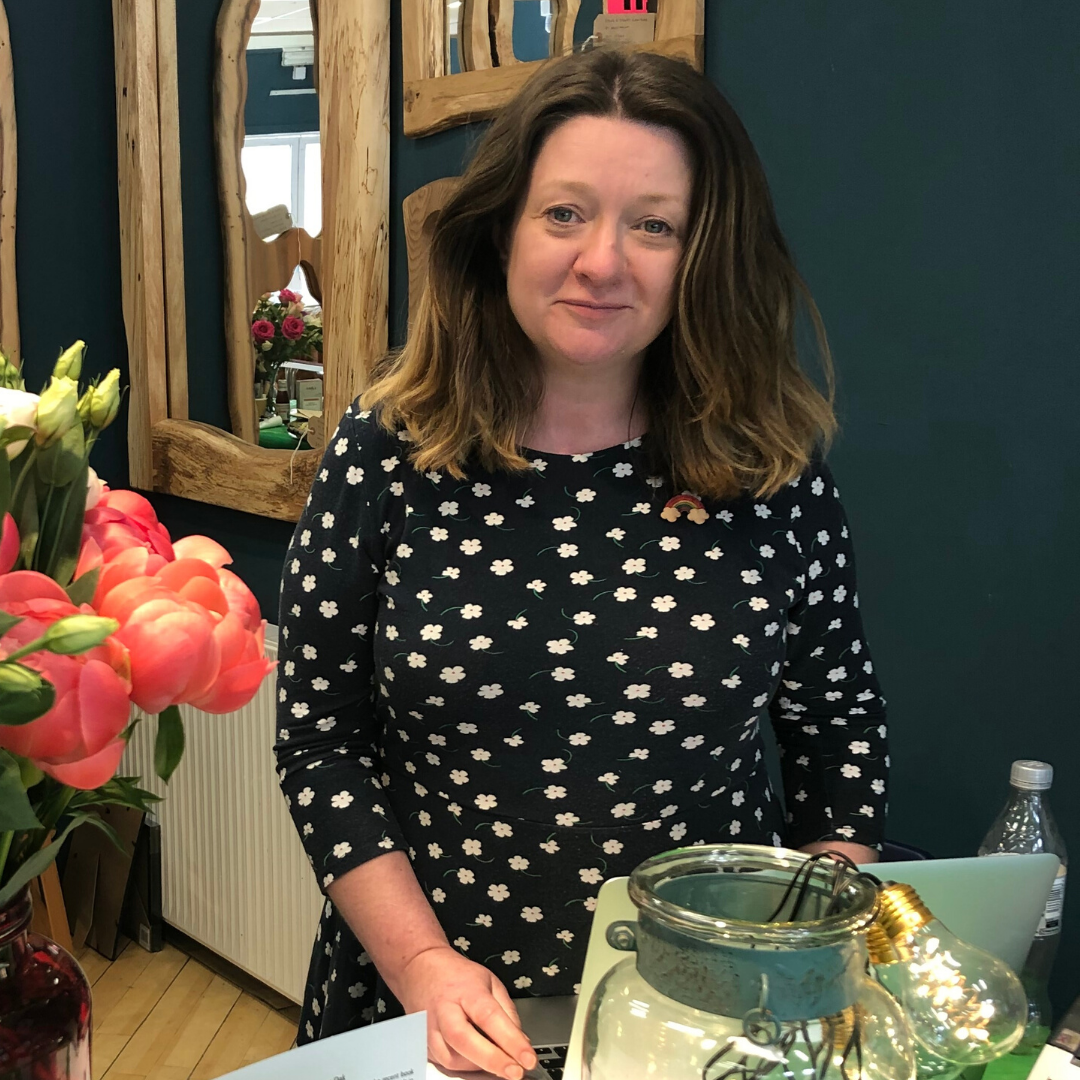 Sara has been overwhelmed by the response to the project. There are now over 30 volunteers who are helping to distribute food to anyone who needs it. Over the past month, Sara and her team have distributed over 5000kg of food, equivalent to 10,000 meals. Sara has been touched and overwhelmed by the acts of kindness within the community. Both Sara and her team are working hard to collect donated food and organise distribution around the Stirling area.
As a thank you to Sara for her hard work within our community, we are making her a two-photo locket of her choice. Sara chose our Silver Feather Locket with Gold Feather Charm. Sara has also chosen two special photos that she would like to keep inside.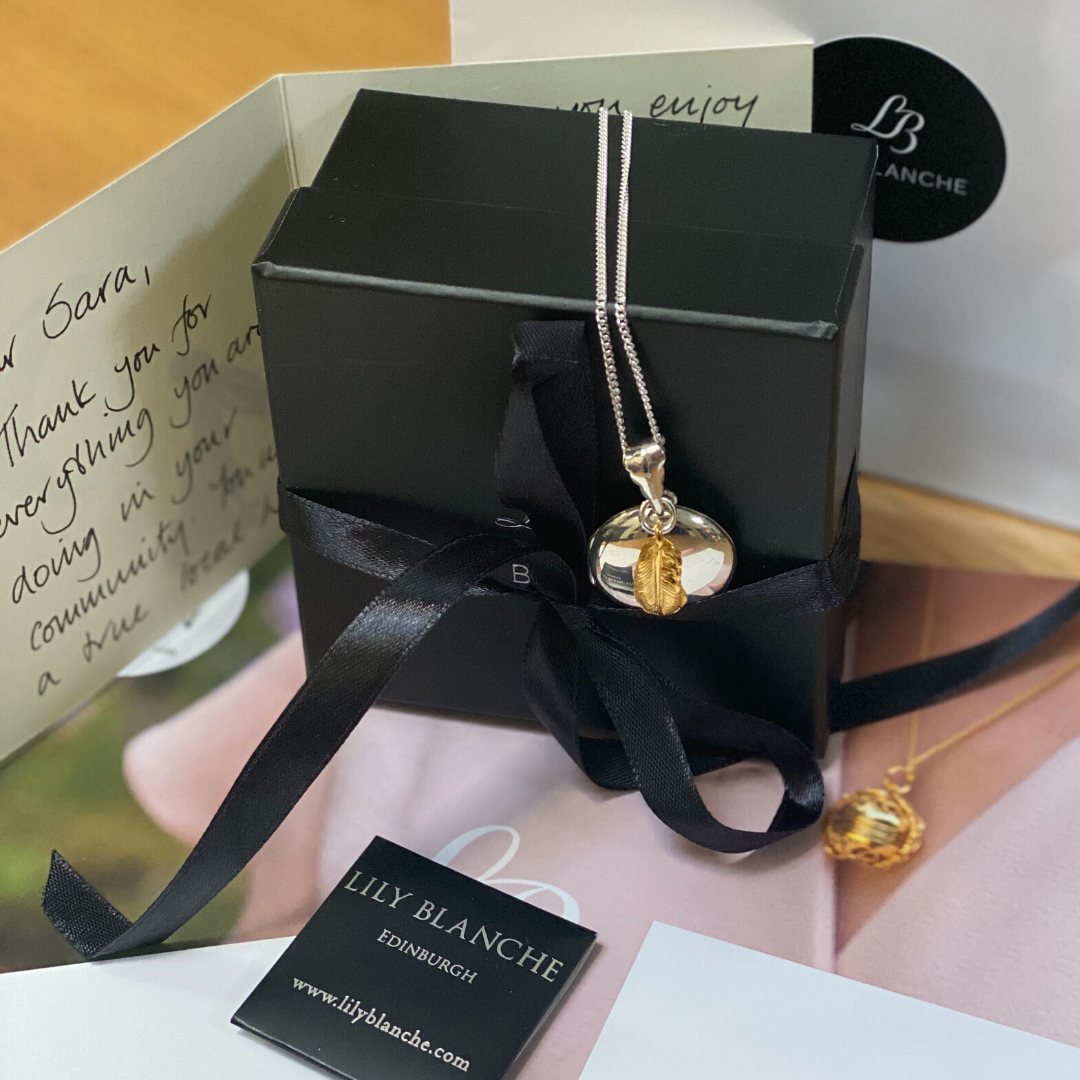 We would like to thank all our local heroes who have gone above and beyond in their communities. We have been so touched by all those who are working hard behind the scenes to help others. Stay tuned for our little video that Kelly has been working on to celebrate all our local heroes!
Don't forget to follow us on social media to keep up to date with our latest initiatives! Just click the buttons below, we look forward to seeing you there!
Our third local hero: Rita Joseph
A huge thank you to everyone who nominated their local heroes last week week. We received lots of lovely stories and nominations of people who are going above and beyond in their communities. All our nominations were fantastic but there was one in particular which caught our eye.
Our latest local hero is Rita Joseph who works as a matron in Maidstone and Tunbridge Wells NHS Trust. Rita has a key role working with her fabulous team to implement emergency plans to reduce the transmission of COVID-19 and support the swabbing of staff. Rita and her team have redeployed 60% of their staff into the acute trust to support colleagues in A&E, Infection Control and Drive through Swabbing.
Throughout lockdown, Rita is busy organising policies and plans as well as keeping her team upbeat. The team have a huddle each morning to motivate one another and work safely. Rita says: "It's been an exhilarating and exhausting few weeks, but so glad that I could be a small cog in this massive team of brilliant, kind, loving colleagues with the NHS and other key workers".
Rita was nominated by our lovely customer Varini for her incredible work during the COVID-19 pandemic. Varini says: "She's never complained and still checks up on everyone else, even though she is risking her health daily". Varini describes Rita as a true "she-ro" and we couldn't agree more. Here is a lovely picture of Rita smiling whilst working her Sunday shift:
As a thank you to Rita for her work within the acute trust, we are making her with one of our two photo lockets. Rita has chosen our Silver Key Locket with Rose Gold Key Charm. She has also chosen two of her special photos to keep inside. We are so thankful for the work that Rita and her fabulous team are doing during this time.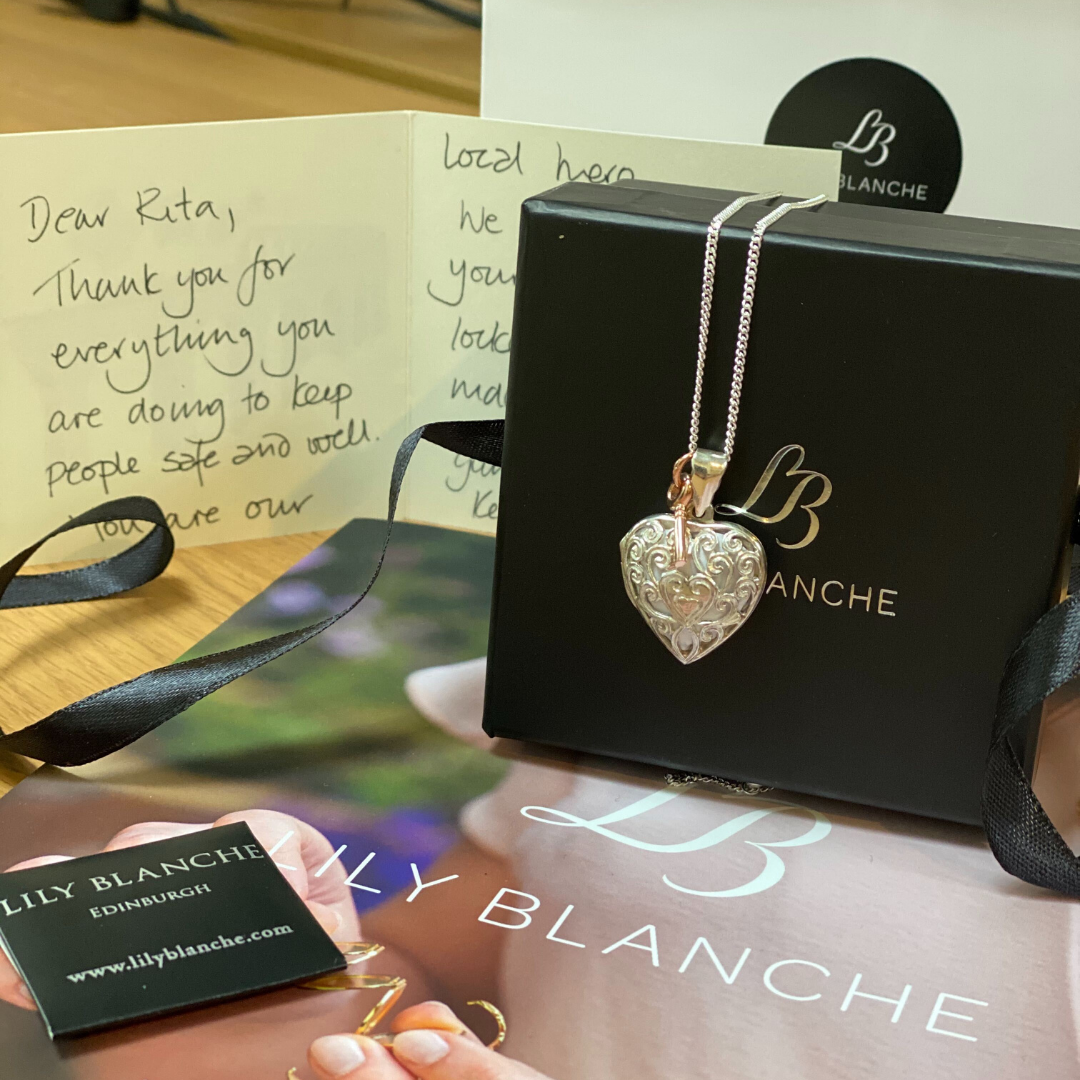 Our second local hero: Julie Oxley

Our second local hero is Julie Oxley from Gateshead. Julie is a seamstress who has been using her skills to make scrubs, wash bags, hats, masks and hairbands for key workers during the COVID-19 lockdown. Julie was nominated by Helen Richardson for going above and beyond within her community.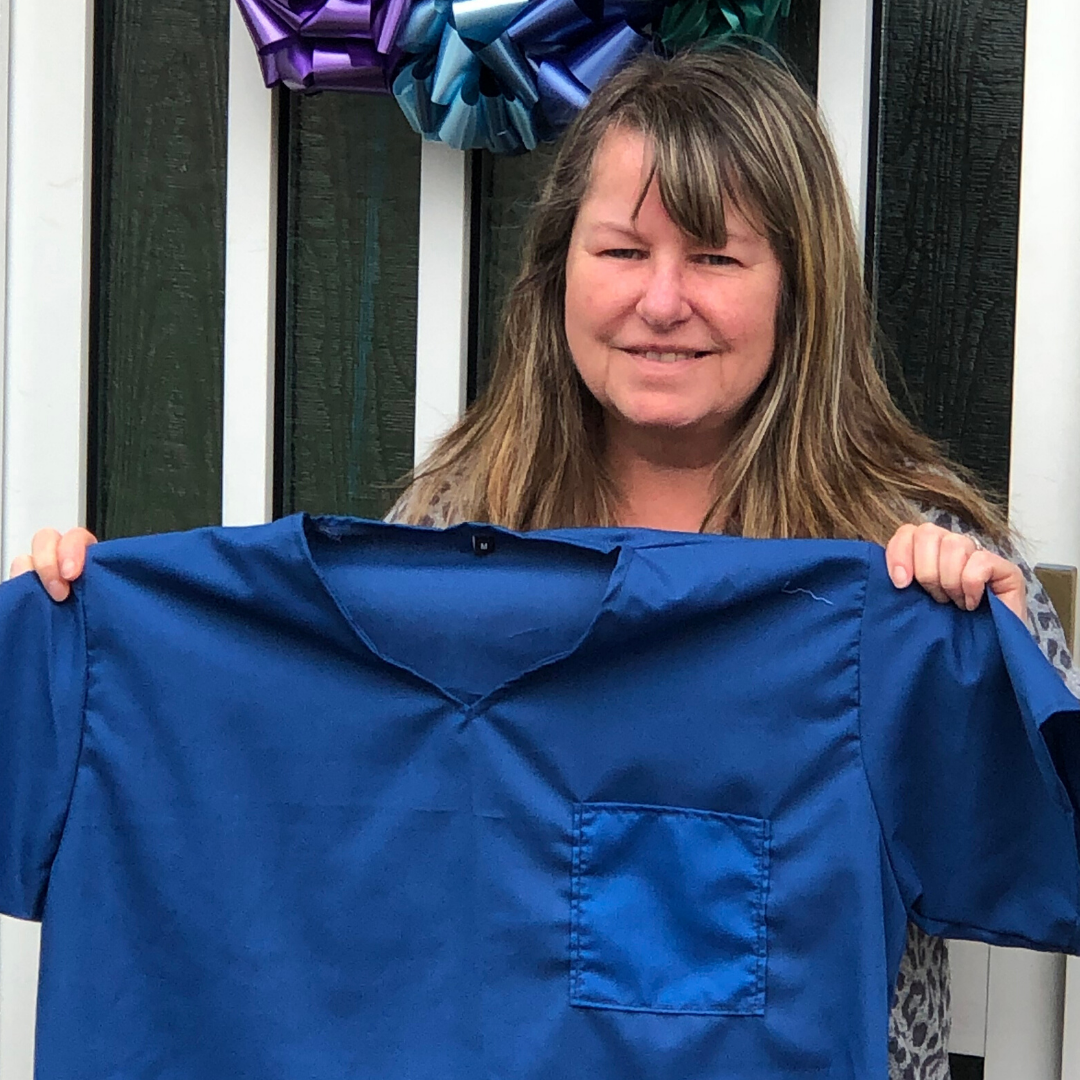 personalised photo lockets. Julie has chosen our Bee Locket with a Rose Gold Feather Charm. We have customised Julie's locket to combine two of our collections, the Bee and Feather Collections. The team have edited and optimised two of Julie's special photos, to keep inside her locket.
We are so thankful for all of the work that Julie, her community and all of our local heroes are doing to help others.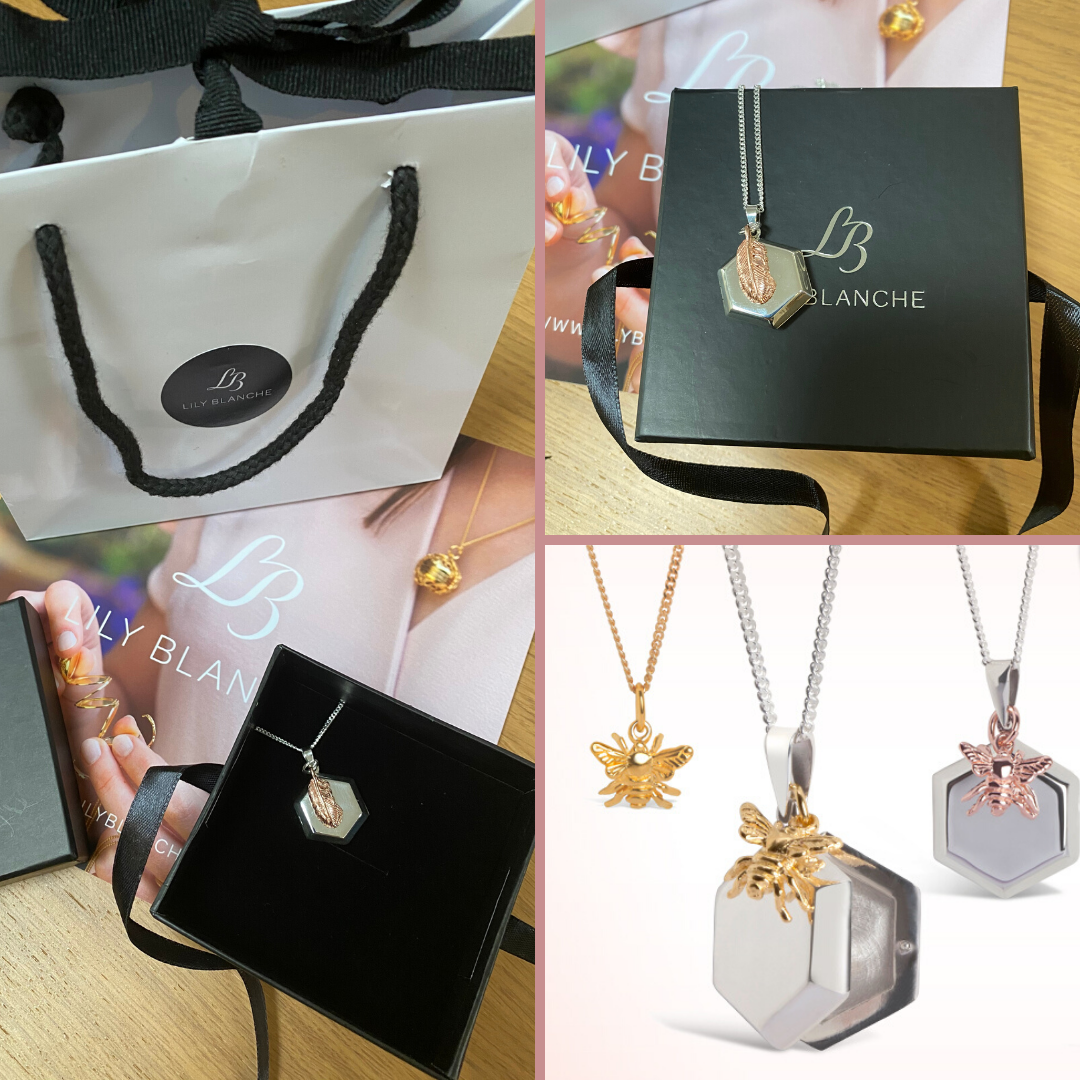 Our First Local Hero: Edele Smith:

Our first local hero is Edele Smith from Stirling in Scotland, where our business is based. Edele is a busy mum who is well known for her involvement with a number of local charities. She is already involved in a committee which organises an annual ceilidh to support local charities such as Eilidh Brown, Strathcarron Hospice and Plus.
As lockdown approached, Edele set up the Facebook community group "Stirling Pulling Together". The initial focus of the group was to help others stay connected during isolation. In particular, it encouraged others to look after their neighbours and rally round to help those in need. Edele has been overwhelmed by the response. The group now has over 4,000 members and has become a safe space to keep connected and informed during lockdown. As well as providing information, the group also focuses on spreading positivity and joy. It has also been an incredible way to feel part of something bigger than ourselves.
It is heart-warming to see the random acts of kindness on the "Stirling Pulling Together" group. One of these is the appeal for toiletry donations for Forth Valley Royal hospital. The community has rallied together to gather toiletries for patients who cannot receive them from visitors. Certainly, the group has been a fantastic tool to organise help and support for vulnerable individuals. Within the community, many people have been working together and offering their time to distribute food and other supplies to those in need.
As a thank you to Edele for everything she does, we will be gifting her one of our unique photo lockets. Edele has chosen our Bee Locket with the Gold Bee charm. The Bee Locket symbolises hard work, community and personal power. You can see our Bee Locket here. Edele has chosen two photos which have a special meaning to her, to keep inside her locket. The team will edit and optimise her photos, allowing her to keep her loved ones close during this time. Edele says: "I am so overwhelmed and humbled, I quite honestly don't feel I deserve this with so many local heroes out there in our community doing so many amazing things at this time".
What Else Are We Doing?
We are pleased to continue to support our chosen charity Social Bite. Social Bite is a charity which does fantastic work to end homelessness. The charity allows customers visiting Social Bite cafes to "pay forward" a coffee or a sandwich for a homeless person. The charity also offers training opportunities and jobs to those who have experienced homelessness. During the COVID-19 lockdown, Social Bite is offering an emergency food delivery service to those in need. To support Social Bite, we donate to the charity for every review we receive and we also support the great work that our chosen charity does in other ways throughout the year. You can read more about Social Bite here.
We are also continuing to support our NHS workers through the Health Staff Discounts Scheme. We have been offering discounts to our amazing NHS workers since 2017. You can find out about our scheme and claim your discount here: https://www.healthstaffdiscounts.co.uk/biz.aspx?a=82476-lily-blanche
#localhero #communityheroes #coronavirus #locketsforlockdown #personalisedjewellery #covid19uk
Local Heroes Terms and Conditions:

This competition is in no way sponsored, endorsed or administered by, or associated with, Instagram, Facebook, Twitter or any other social media channel. Any questions, comments or complains regarding the competition must be directed to Lily Blanche and not to Instagram, Facebook or Twitter.
1). Entry:
The Lily Blanche Instagram/Facebook Local Hero competition is will be running during lockdown. We will announce a new local hero every Thursday. Entries must be submitted every Monday by noon to be considered for the following Thursday. Our next local hero will be announced on Thursday 14th May 2020. All entries must be received before this date to be considered.
To enter our competition, entrants must send us the name of the person they would like to nominate and how their nominee is going above and beyond in their community. Entries will be accepted through Facebook, Instagram, our Blog post, Twitter and email: media@lilyblanche.com
2). Giveaway:
One winner will be selected by the Lily Blanche team. The prize includes one of our 2 photo lockets from our Birds, Bees, Feathers, Keys or Seahorse collection with the winners choice of 2 photos to keep inside.
3). Eligibility:
This competition is open to anyone aged 18 years or over, excluding employees of Lily Blanche, their partners, families or anyone else professionally associated with this competition. Open to UK competitors only.
General:
All entries received after Monday 11th May 2020 will not be entered into the Lily Blanche Instagram/Facebook Local Hero Competition.
The local hero will be chosen by Lily Blanche from all successful entries received.
The local hero will be announced on Thursday 14th May 2020. If unclaimed within 5 working days, the prize will be forfeited. If the winner does not redeem their prize, Lily Blanche reserves the right to choose another winner to receive the prize.
The winners will be notified by the Lily Blanche Instagram Page and Facebook page via comment or direct message within one day of the competition draw date with instruction on how to redeem their prizes.
All prizes are non-transferable, non-refundable, cannot be exchanged and cannot be redeemed for a cash equivalent.
Lily Blanche does not accept responsibility for entries which were not completed due to technical issues or for incomplete entries.
Lily Blanche reserves the right to end this competition at any point.
The information entrants provide will be used by Lily Blanche for the purpose of conducting this competition and following up queries
The competition owner is Lily Blanche 25 Clarendon Place Stirling FK8 2QR. For any questions or queries regarding this competition please contact us hello@lilyblanche.com
Insofar as is permitted by law, Lily Blanche will not in any circumstances be responsible or liable to compensate the winner or accept any liability for any loss, damage, personal injury or death occurring as a result of taking up the prize except where it is caused by the negligence of Lily Blanche or that of their employees.